Details
Here's how the NFL schedule works. There are eight divisions (NFC North, East, West, South, and AFC North, East, West, South). Each division has four teams, each of which plays 16 games. The opponents for those games are determined like so:
2 games against each of the other 3 teams in the same division (6 games)
1 game against each of the 4 teams in another division in the same Conference (4 games)
1 game against each of the 4 teams in another division in the other Conference (4 games)
2 games against the same place finishers in the 2 divisions in the same Conference they are not already playing (2 games)
For example, Jacksonville is in the AFC South and finished in 3rd place in their division. This year, the AFC South plays the NFC North and the AFC West. So 14 of Jacksonville's games are: Indianapolis (2x), Houston (2x), Tennessee (2x), Green Bay, Minnesota, Chicago, Detroit (NFC North teams), Denver, San Diego, Oakland, and Kansas City (AFC West teams). Their final 2 games are determined by their 3rd place finish. They will play the 3rd place AFC North team (Baltimore) and the 3rd place AFC East team (Buffalo).
Every time some NFL "expert" starts jabbering about this or that team's "1st place schedule" or "last place schedule," metaphorically knock some sense into them. A team's placement in their division from the previous year has very little effect on their schedule in the current year.
Details
The following discussion contains massive spoilers for Fallout 4 and the Far Harbor expansion. You have been warned. The spoiler-free conclusion is: I'm not particularly fond of Far Harbor. Now, on to the spoilers… (after the screencaps)
Details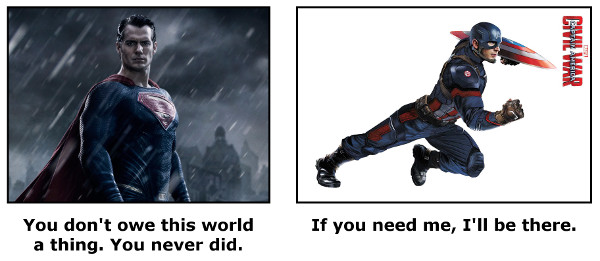 "I can do this all day."
What has become an iconic line for Captain America was not first uttered by the Captain. The first time we hear those words, they are spoken by a scrawny Steve Rogers. Long before the Super Soldier serum coursed through his veins, Rogers was a hero.
DC Comics appears to be pushing Zack Snyder aside in an effort to elevate its Cinematic Universe. While such a move is an important first step, it will do little good unless DC understands why Snyder's movies are provoking great criticism. Snyder makes movies about super-powered people.
But they're not heroes.
It's fine for our heroes to have flaws, but each franchise needs one linchpin that truly exemplifies the ideal. For Marvel, that is Captain America. For DC it should be Superman, but Snyder has badly mishandled their greatest hero. To bring the DCCU to the level of the MCU, Superman must be remade. It can be done, and in a way that is emotionally and intellectually stimulating. Just watch all three Captain movies.
This is not about DC beating Marvel, or vice versa. There's room at the cinema for two great superhero franchises. I want DC to succeed because I love some of their characters as much as I love some of the Marvel characters.
But until the DC supers also become true heroes, I just can't watch.