Details
I've written before how we often judge whether or not a decision was "good" or "bad" based on the results. A good decision can have bad results and a bad decision can have good results. The decision Pete Carroll made in Super Bowl XLIX to throw on second-and-goal has been widely excoriated as a really bad decision because it resulted in an interception that sealed New England's victory. However, it was actually a good decision that had a really bad result because of poor play by Russell Wilson and good play by New England's defensive backs.
First, let's analyze the situation and the call. After a first-down run of 4 yards, the Seahawks had three plays to gain one yard. While that sounds simple "on paper," it can be very difficult, especially at the one-yard line. Take a look at the sideline view…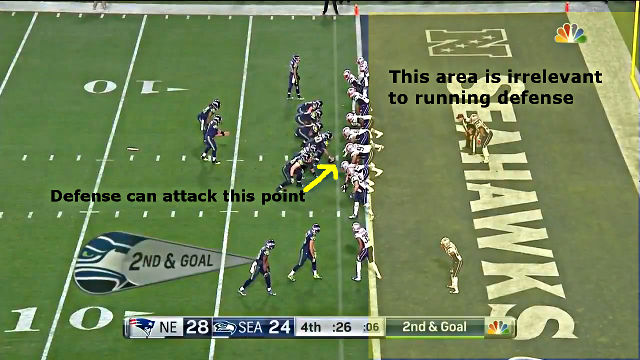 Much has been made of Marshawn Lynch's (Seattle's running back) success on 3rd/4th downs with short yardage needed. But a running play at the goal line faces additional obstacles. On a short-yardage play at midfield, the defense still has to protect the field behind them in case of a breakthrough by the runner. At the goal line, the defense must only protect the line of scrimmage. All the open space of the end zone is irrelevant on a running play. This allows the defense to charge forward with abandon—if the runner gets past them, it's over. So a running play is not a "gimme" at this point on the field.
Details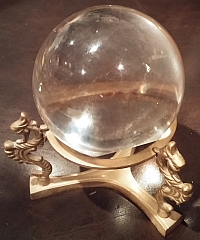 Predicting the future is a facetious endeavor, but, since everyone does it and I don't want to be left out, here's my list of predictions for A.D. 2015. Some are jokes, some are actual attempts at foretelling the future, but, since such activity is laughable anyway, perhaps they're all just jokes.
Uncharted 4 will be delayed into 2016. It won't be the only game that is "pushed back."
Bonuses for Nintendo's executives will also be delayed into 2016.
Twitter will change its name to Bitter to better reflect the attitude of its users. "Tweets" will become "Bites."
Inside Out, Pixar's first movie in two years, will be the first financial flop for the company.
Microsoft will offer an Xbox One with Kinect but no standard controller. It will be called the Wee One.
Pillars of Eternity, Kickstarter project from Obsidian, will finally be released, over a year late. It will still be a bug-ridden mess.
Mel Kiper, Jr. will say "lig" (league) 562 times during the first round of the NFL draft.
North Korea will hack the BBC. No one will notice until "Sherlock" doesn't air.
Bethesda will announce Fallout 4.
Bethesda plays a clip of Ron Perlman saying, "War. War never changes." The LA Convention center explodes from the mass outburst of the attendees.
Steam sales will hit the tipping point and Valve will start paying people to download games.
As a result, Valve's stock will go up.
Somebody will sue Valve over a line of copyrighted code in their Steam OS.
Valve's stock will go up again.
May 1, 2015, will be the largest absentee day in the history of the United States.
Peter Jackson will announce a fifteen-part film of The Silmarillion.
Despite extensive writing about how much I hate the luck involved in fantasy football, I will still play at least two leagues come next season.
Tom Brady will retire from New England and sign with an SEC school, saying he wants to go out facing tougher competition than the AFC East.
The first game between Johnny Manziel and Jameis Winston is cancelled for lack of effort.
The rate of poorly-sourced, false "news" stories outnumbers true stories at the rate of 1.2 to 1. People don't care.
Andrew Luck shaves off his beard and can no longer find a helmet small enough for his head.
"Petspreading" becomes the next big controversy as people complain the sheer volume of animal pictures is going to shut down the Internet.
The Catholic Church sues New Orleans for associating football violence with the saints. Until people point out there's nothing particularly violent about the New Orleans Saints.
The number of people who play video games will increase.
The number of people complaining about the "casual" players ruining gaming will also increase.
A teen programmer will release a simple game that is widely derided as being the worst example of gaming in existence. It will be downloaded 50,000,000 times and the teen will retire rich.
Thus leading to even more nasty blogs about the teen, the game, and the 50,000,000 people who play the game.
Some of whom will be the people writing the nasty blogs.
Amazon will introduce Prime Plus, which will examine your purchase history and deliver products you want before you order them.
I will finally finish my next Betty Sterling novel.
Happy New Year! Remember, you only have 365 days until 2016.
Details
10. Everything is designed for touchscreens. Hey! I still like to use a keyboard and mouse once-in-a-while!
9. Internet memes[1]. Especially how they are obsolete so quickly. I'm just now starting to get the hang of the "One does not simply…" meme and my son looks at me cross-eyed when I use it.
8. Switching "alternate" functions on the function keys. I use F2, F3, F4, etc. all the time, but now on many laptops they change the brightness or turn off my wireless instead of their correct functions. Drives me nuts.
7. Cloud services. Let's see, I've got Dropbox, and Google Drive, and OneDrive… All our data lives online now and people wonder why we don't have any privacy. Well, it's because…
6. Hacking. Seriously, if the average person understood how often Web sites and online databases get hacked, the Internet would shut down from so many people disconnecting.
5. Pace of change. I got a relatively new model phone less than a year ago and it's already antique. :sigh: Now I have to slog through using such an obviously cheap piece of junk for another year before I can upgrade.
4. One-button interfaces. Thanks, Apple, for your "click-wheel[2]." Now "easy-to-use" interfaces are infecting everything from my digital thermometer, to my electric toothbrush, and even my car.
3. Click-bait Web sites. And the celebrities who share them.
2. Anonymity on the Internet is making "social" media very anti-social. Some of the stuff that pops up on Twitter would never be said to someone else's face because you'd get punched.
1. Our reliance on the Internet. If the WiFi goes out in the house, it's a national emergency. Thank goodness we get good cell tower coverage…
[1] OK, some of these are funny.
[2] Let's be honest, the click-wheel wasn't that great a control scheme anyway.
Details
10. Replayability. Really, if the game is short, it's probably not interesting enough to play again. If it's long enough to be interesting, it's too long to keep playing it over and over. Make the game so I can do everything the first time. And, really, do game devs want us to play one game over and over? Don't they want to sell us new games?
9. Epic plots. "There's a giant hole in the sky spitting out demons! Can you please find my lost cow?[1]" The best games have more personal stories.
8. YouTube walkthroughs. Edit. We do not need to watch you "walk through" cutscenes and endless meandering about looking for stuff. EDIT!
7. Delays. Companies have been making video games for 40+ years. You would think by now they would have figured out how to make reasonable estimates of how long it takes. On the other hand, delays are better than…
6. Bug-ridden messes. I can live with a Day 1 Patch. But it had better work after that Day 1 Patch…
5. 1080p. Apparently, if we actually want to read text in a game, we have to own 60"+ televisions. Speaking of which…
4. Text. If I want to read a book, I'll read a book. Please don't throw tens-of-thousands of words of text at me in the game, and expect me to read it to understand everything.
3. Nintendo 2DS. I know, I should have sprung the extra $60 for a 3DS, but, seriously, Nintendo? This hardware is cheap. You can do better than this. You had best do better than this or your quarterly losses are going to continue mounting.
2. #Gamergate[2] However, GG is doing one good thing in trying to fight…
1. Censorship. If I don't like the content of the game, I won't buy the game. I may even tell other people my negative opinion of the game. But don't try to block the game being made or sold; that way lies madness.
[1]Actual side quest in Dragon Age: Inquisition
[2]No, I'm not going to even try. GG is the consumer-side of gaming eating itself.